Current status of industrial waste management in Vietnam
Current status of industrial waste management in Vietnam
The main cause of environmental pollution due to industrial activities originates from the discharge of various types of waste (wastewater, exhaust gas, solid waste, hazardous waste) into the environment.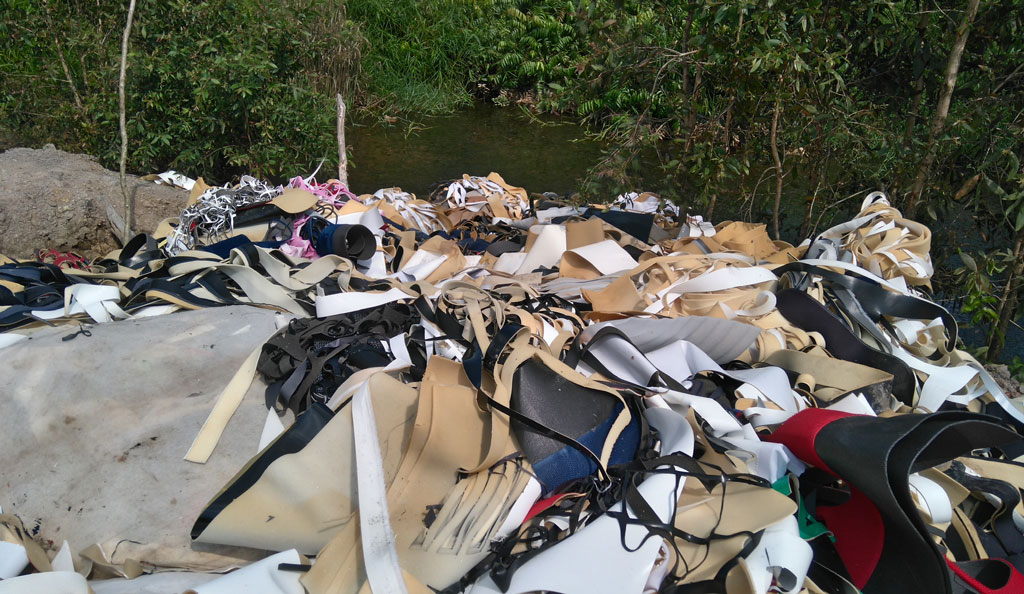 There are many problems with industrial waste. (Illustration)
Although the model of concentrating production facilities in industrial zones (IZs) facilitates waste management, so far, besides industrial zones, many industrial zones have complied with the law on waste management. The centralized waste collection and treatment works have not yet been completed. The discharge of huge volumes of industrial wastes containing large amounts of highly toxic pollutants has been, and will be, an increasing pressure on natural ecosystems, human health and damages. damage many economic sectors.
On pollution control due to industrial wastewater
For industrial zones
According to statistics of the Ministry of Natural Resources and Environment (1) the implementation of Directive No. 07/CT-TTg of the Prime Minister in environmental protection work, especially investment and operation of the treatment system. centralized wastewater treatment in operating industrial zones, initially had positive results.
By the end of October 2014, out of 209 IPs that have been put into operation, 165 IPs have built a centralized wastewater treatment system, accounting for 79% of the total number of industrial zones in operation, an increase of 6% compared to 2013. The total wastewater treatment capacity of the plants is approximately 630,000 m3/day.night. With the current wastewater flow of 165 industrial zones about 350,000 m3/day and night, in case all industrial zones are in operation, attracting investment and are 100% filled, the amount of wastewater generated is about 600,000 m3/ day.night.
However, in fact, many industrial zones already have wastewater treatment stations but have not operated regularly, and treated wastewater has not met QCVN. This is the case in Tra Noc 1, 2 Industrial Parks (Can Tho), Thuy Van Industrial Parks (Phu Tho), Tam Diep Industrial Parks (Ninh Binh), etc., still exist the situation of wastewater discharge causing environmental pollution. Especially, industrial zones that have not yet built and operated wastewater treatment stations cause even greater environmental pollution, such as Cau Ngan Industrial Park (Thai Binh) which generates more than 1,000 m3/day and night, Hoa Binh Industrial Park (Kon Tum) has invested invest in a centralized wastewater treatment system, but there is no wastewater collection system, so it cannot operate anymore.
In general, industrial zones in the Southern Key Economic Zone (Southeast), Mekong River Delta, Red River Delta comply with regulations on investment in centralized wastewater treatment system and good environmental protection. than other regions in the country; 95% of industrial zones in the Southern Key Economic Zone; 83% of IZs in the Mekong Delta and 74.5% of IZs in the Red River Delta have built and operated centralized wastewater treatment plants. Up to 51 out of 70 wastewater treatment systems concentrated in the Southern Key Economic Zone have automatic monitoring equipment installed. This is consistent with the development and investment attraction of industrial zones in the region. The Northern Midlands and Mountainous Areas, the Central Highlands, and the Central Coast due to the later development of industrial zones and mainly in the construction phase and step by step attracting investment, the generation of wastewater is not much.
For industrial clusters (CCN)
The investment in construction of environmental protection infrastructure has been slow, in which investment is made on the basis of support from the central budget. As of October 2014, out of a total of more than 600 CCNs in operation, only about 5% of CCNs have centralized wastewater treatment systems, for the remaining CCNs, production facilities treat wastewater themselves. or discharged directly into the environment. The management of environmental protection in the industrial zones is very weak, because most of the industrial zones are now invested by the authorities at all levels.
For production facilities located outside industrial zones, CCN
Infrastructure works on wastewater management and pollution control are more difficult than those in industrial zones. Discharge incident of cassava flour processing factories in Central, Central Highlands, discharge of wastewater causing fish death in Tra river of Quang Ngai sugar factory; especially the discharge of Vedan company causing serious pollution to Thi Vai river are some of the examples of wastewater control in establishments located outside industrial zones and industrial zones.
On pollution control due to emissions
Emissions generated from each factory in industrial zones and industrial zones cannot be collected and treated centrally, so now businesses treat emissions themselves. Therefore, if the Management Boards of the IZs or companies seriously enforce the regulations and standards on the environment, the emissions from factories in the IZs will meet the allowable limit requirements according to the QCVN (for example, most of the companies in the industrial zones of Vietnam - Singapore, Amata, Dong Nai 2, Tan Thuan Export Processing Zone, North Thang Long Industrial Park, Holcim, Nghi Son cement companies...).
On the contrary, if the Industrial Park Management Board or enterprises do not comply well with the legal regulations, industrial emissions will not meet QCVN (for example, steel factories in Thai Nguyen, many cement factories in Kien Giang, Hai Duong). , Ninh Binh…).
On pollution control due to industrial solid waste, hazardous solid waste rắn
Up to now, most industrial zones and industrial zones have not built stations or points for collecting, transferring and treating industrial and hazardous solid waste. The classification of industrial and hazardous waste is done at each enterprise, but there is no center in the whole industrial park and the whole province/city (besides Nam Son - Hanoi solid waste treatment center) specialized storage and handling.
Therefore, millions of tons of industrial solid waste (steel slag, sewage sludge, used refractory materials, etc.) are stored in fields and vacant lots, creating a large source of pollution, hazardous to humans. nature and land use. Many electronic and chemical manufacturing enterprises need a centralized collection center, but the locality cannot meet this requirement.
Situation of environmental pollution caused by industrial activities
Up to now, about 79% of the total number of operating industrial zones have built a centralized wastewater treatment system, although these works have been put into operation, many industrial zones have low treatment efficiency and have not met the regulations of the Government. QCVN.In the Southern Key Economic Zone where there are many industrial parks and the largest FDI projects in the country, although the rate of construction of centralized wastewater treatment system in this area is the highest in the country, the situation Violations of environmental regulations still occur.
Pollution caused by industrial wastewater combined with urban wastewater has seriously polluted many canals in the periphery of Ho Chi Minh City such as Tham Luong, Ba Bo, Thay Cai, An Ha.... Many businesses use tricks to build a solid underground system that discharges directly into rivers and canals, such as Hao Duong, Pham Thu, Tuong Trung, and Tan Nhat Dung in Ho Chi Minh City, or take advantage of the rising and falling tides to mix dilute untreated wastewater into the environment such as Sonadezi Long Thanh - Dong Nai Joint Stock Company (2).
Particularly serious, Vedan Company (Taiwan) directly pumped and discharged a large amount of post-fermentation wastewater with very high concentrations of pollutants into the Thi Vai River, polluting the Thi Vai River, on a large scale. (according to the inspection results of the General Department of Environment on September 6, 2008). Today, the Thi Vai River has gradually revived: pollution has decreased significantly, shrimp and fish have grown again after this company was sanctioned, reducing emissions into the environment).
However, at present, air pollution is not large in industrial zones with good investment and environmental management (ambient air quality indicators in many industrial zones in Ho Chi Minh City, Dong Nai, Binh Duong reach the limit). allowed according to QCVN05:2013/BTNMT, even better in the area along major roads). Meanwhile, air pollution in the areas surrounding cement, steel, thermal power plants, etc. has outdated technology, poor environmental management, and is very high.
Assoc.Prof.Dr. Le Trinh (Institute of Environmental Science and Development)