Investment in waste treatment technology- Solutions for sustainable livestock development
Investment in waste treatment technology- Solutions for sustainable livestock development
In order to sustainably develop the livestock industry, one of the important factors is to invest in a modern waste treatment system.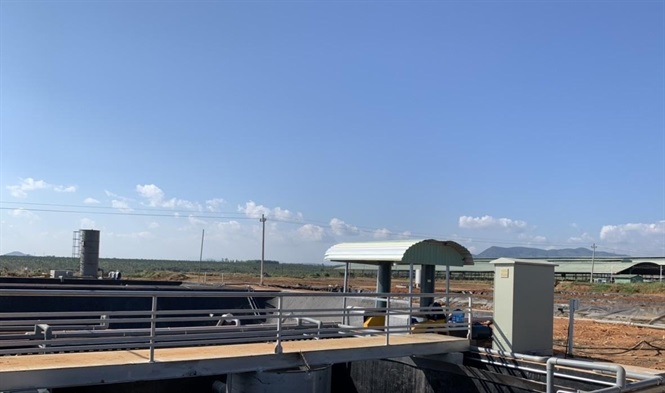 The waste treatment system of Nutifood Group, built by Viet Water Company, is considered the largest in Gia Lai today.
See more project details Waste treatment system of Nutifood Group
According to statistics of the Ministry of Agriculture and Rural Development, the whole country currently has about 12 million households with livestock production activities and 23,500 concentrated cattle and poultry farms. The total herd (before African swine fever) was more than 362 million poultry, 29 million pigs and 8 million cattle. - about 84.5 million tons/year, of which, only about 20% is used effectively (fertilizer production, electricity production, gas...), the rest 80% of livestock waste is wasted waste and most of it is discharged into the environment causing serious water, solid waste and air pollution.
Having a high-tech livestock waste treatment system on farms is a must, an inevitable trend if you want to survive and develop. Therefore, many professional waste treatment enterprises have been born, and are making great contributions to solving the problem of pollution from livestock waste.
Viet Water JSC is one of them. This enterprise gathers a workforce of engineers and specialists with many years of experience in enterprises specializing in environmental treatment. They have built regional-scale waste treatment models in the country for leading livestock enterprises in Vietnam, have cooperated with Korea to build livestock waste treatment systems in Laos and Cambodia...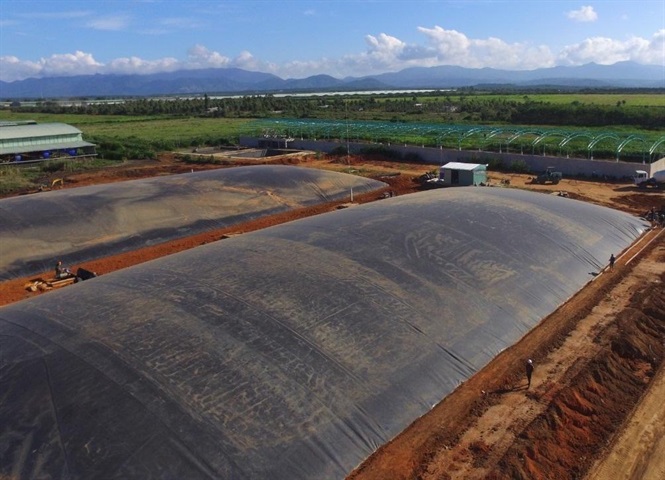 The project is currently in the final stages of completion.
Talking about livestock waste treatment, the representative of this company analyzed: "Livestock wastewater has high organic pollution characteristics, contains many polluting compounds such as nitrogen, P... these are difficult compounds to handle. physical. Not to mention, investing in a wastewater treatment system that meets current discharge standards costs a lot. Therefore, it is very necessary to find an effective treatment technology and be able to recover energy back for reproduction. This is one of the important factors in order to develop sustainable livestock production in the direction of concentrated industrial farming: modern, safe, and environmentally friendly.
Currently, Viet Water JSC is building a livestock waste system for Nutifood Group's large dairy farm in Gia Lai. "This is a large-scale Nutifood farm in the Central Highlands where we are building a waste treatment system. Technology has been evaluated and selected by the Investor to apply. This is the technology that meets the overall solution according to the clean development mechanism", said a representative of Viet Water JSC.
According to Viet Water JSC, with wastewater with large volume and high organic pollution, input treatment with HDPE tarpaulin-covered Biogas tank is the optimal and suitable choice. However, with the traditional method of biogas tank construction, the service life, treatment efficiency and safety level are not guaranteed. In order to improve the efficiency, longevity and recovery of microbial fertilizers for Biogas tanks, Viet Water JSC has applied improved technology from advanced countries leading in the livestock industry to the project and brought great efficiency while Reduced operating and handling costs.
Wastewater treatment system after biogas applying biological technology and physical substrate is very suitable for livestock wastewater. Technology with low treatment costs, low maintenance and simple operation, thoroughly treats pollution, meets current discharge standards, and water can be recycled and reused after treatment.
Address reputable waste treatment company
You are reading the article Investment in waste treatment technology- Solutions for sustainable livestock development in Viet Water. For any information, suggestions and sharing, please send it to the mailbox vietwaterjsc@gmail.com@gmail.com or phone number, Viber: 0904.506.065.
Links: https://nongnghiep.vn/dau-tu-cong-nghe-xu-ly-chat-thai-giai-phap-phat-trien-chan-nuoi-ben-vung-d255761.html
Investment in waste treatment technology
Wastewater Treatment Company in vietnam